Chiquita bananas may like to grow in tropical countries, but they are loved around the world and have made their way into the hearts of people everywhere.
With their great, creamy taste, super quality and many health benefits they are a truly international fruit and as such have made their way into some very international recipes. 
Chiquita have a whole range of mouth-watering dishes from around the world, featuring their bananas. They're a great addition to a recipe, because they are crammed full of goodness – important vitamins, minerals and soluble fibre, as well as natural sugars to provide a long-lasting energy boost. Why not try out some of these delicious recipes, and take your taste buds on a tour of the world with Chiquita bananas?
Italy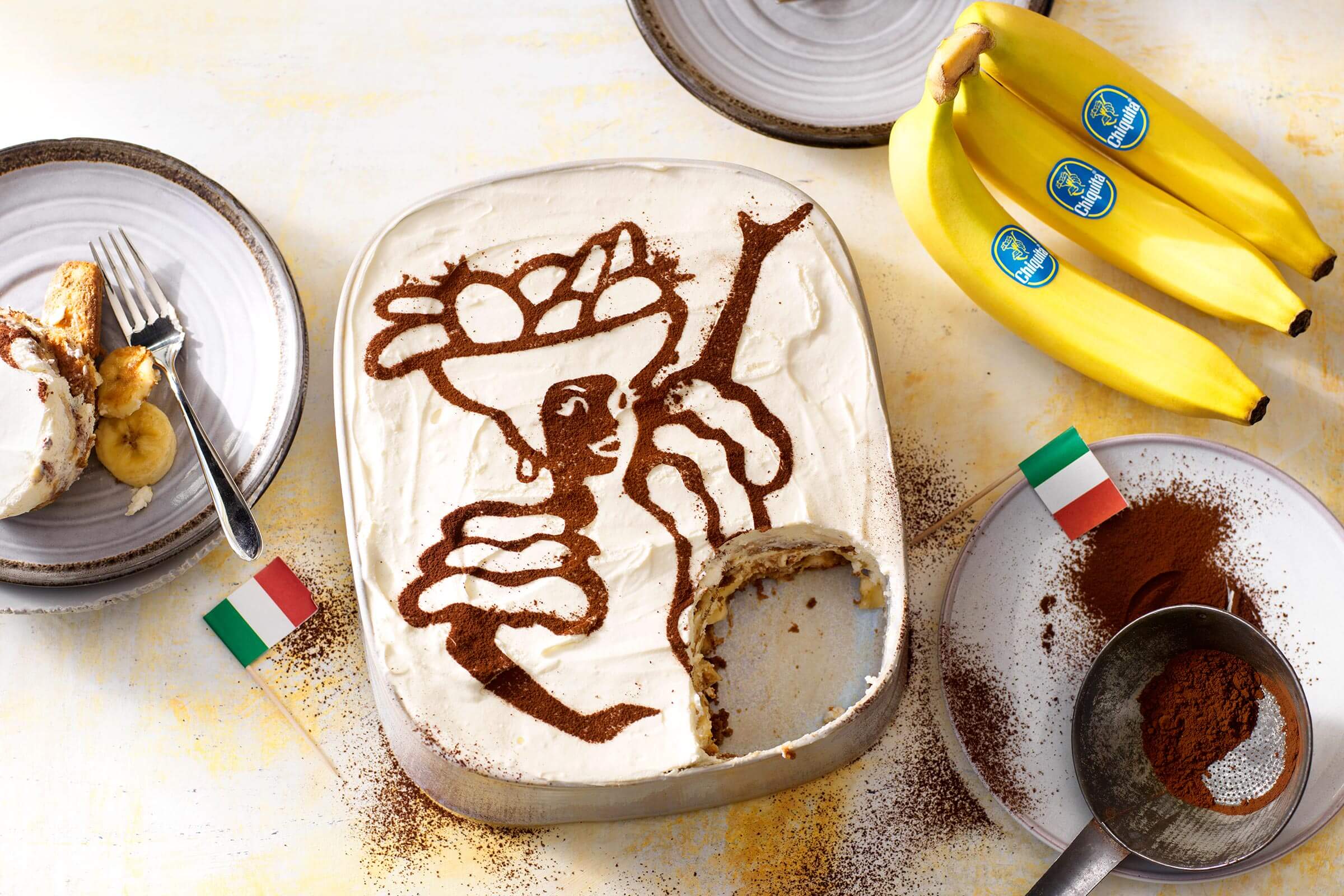 Miss Chiquita Italian tiramisu with Chiquita banana
Who loves tiramisu? We do, and you will too! This iconic Italian dessert teams finger biscuits soaked in espresso (and Kahlua to taste), as a base, sprinkled with Chiquita banana pieces. Cover with caramel sauce and a mix of whip cream and mascarpone, then repeat till your dish is full. Use cacao powder to draw Miss Chiquita on top for a fabulous feast.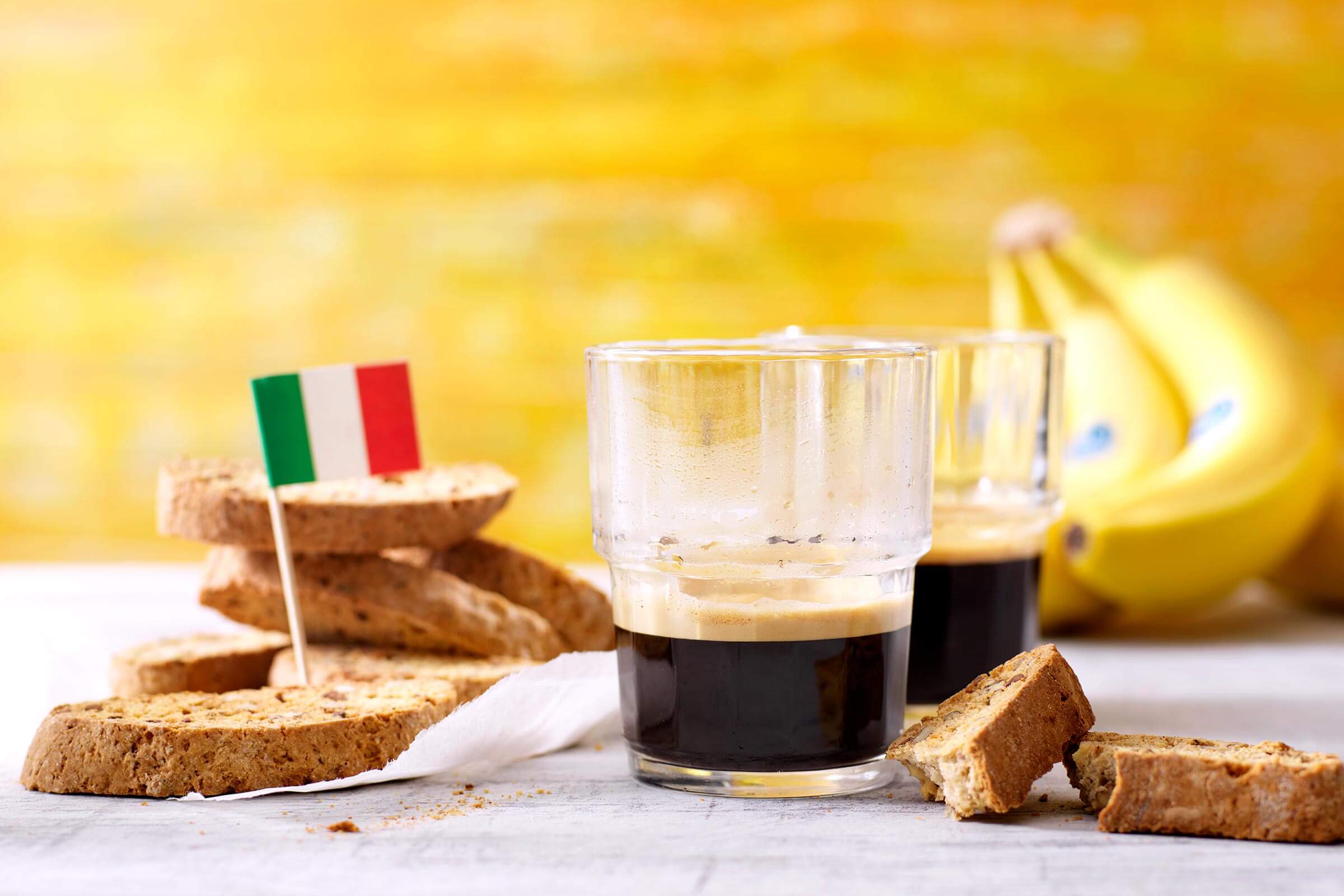 Italian cantuccinis with Chiquita bananas
These typical Tuscany Cantucci are just the greatest almond cookies. Mix Chiquita banana, oil and vanilla extract then add to the mixed dry ingredients – whole wheat flour, coconut sugar and salt. Add almonds and mix well. The special part is the double baking – then enjoy these delicious, crisp cookies with a coffee, the Italian way.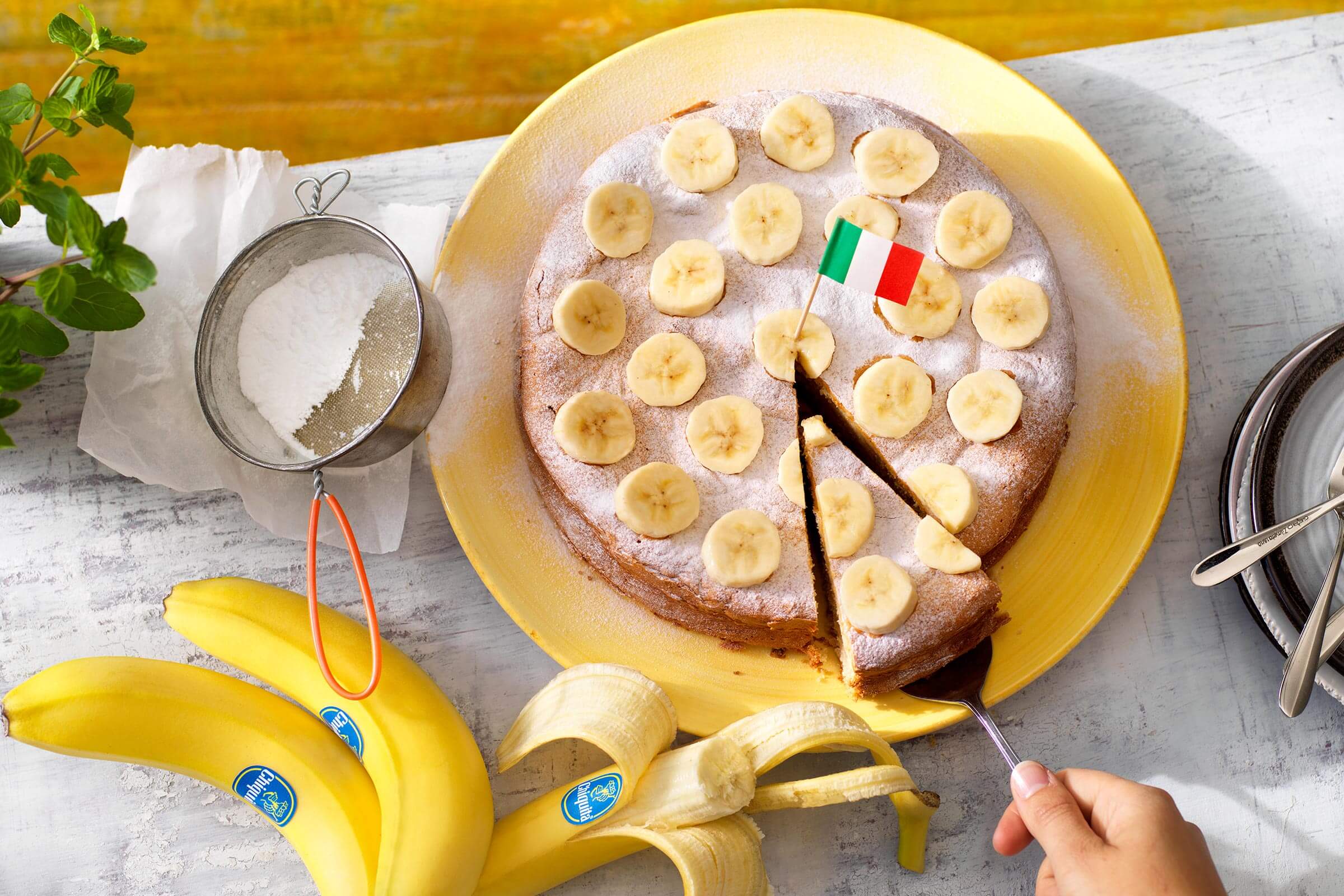 Italian torta paradiso with Chiquita banana
Children love the Soft Heaven Cake for its sweet, sweet taste, and cooks love it for the interesting recipe! Using eggs, butter, sugar, potato starch, flour, vanilla extract, and lemon juice and zest, the effort of making the cake is well worth the fabulous result.
Germany/Austria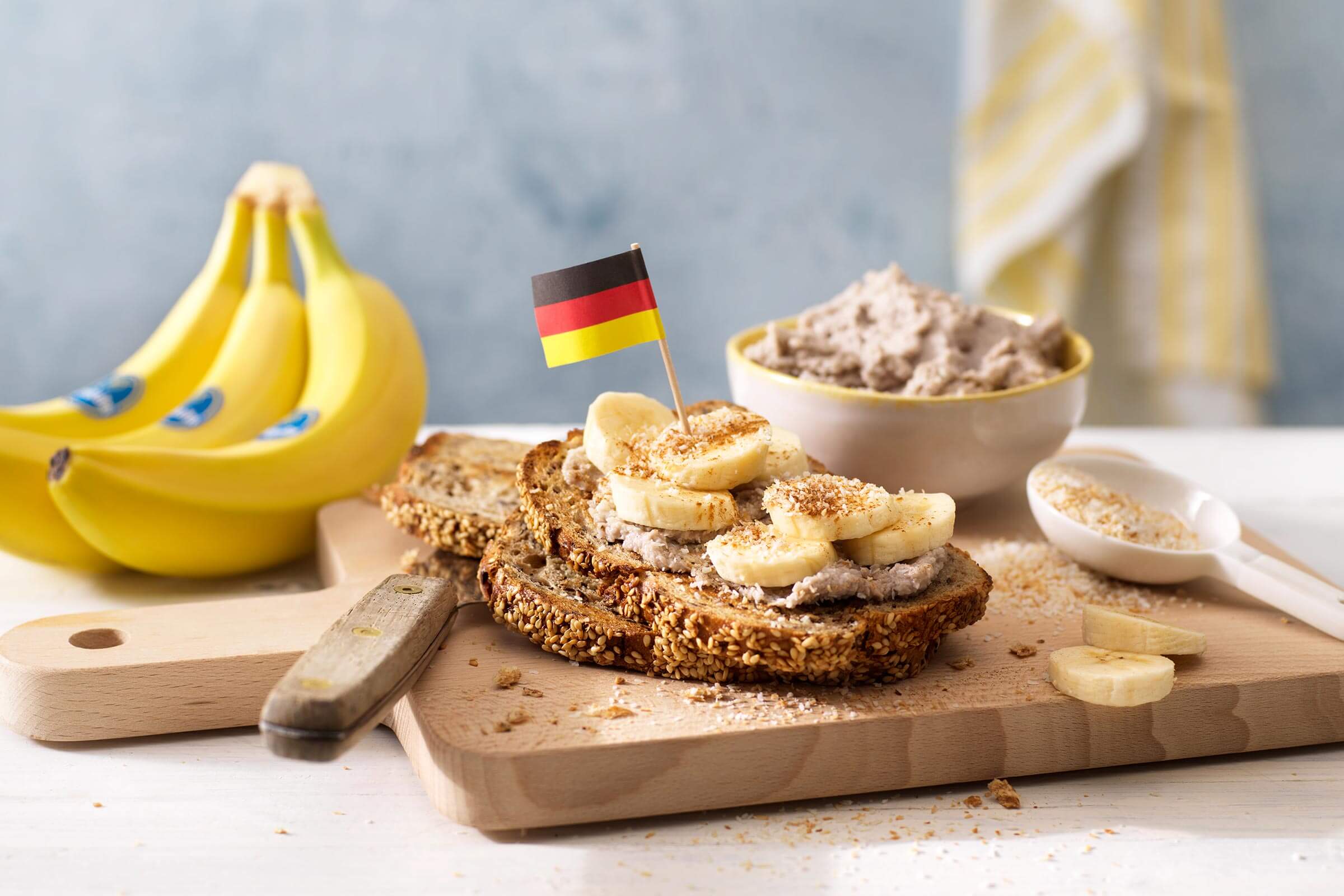 German vollkornbrot with Chiquita banana and coconut
For a healthy breakfast that tastes like it came straight from a German bakery, blend Chiquita bananas with olive oil, coconut flakes, cinnamon and lemon juice, then spread the mixture on toasted vollkornbrot, topped by another, sliced banana. Delicious!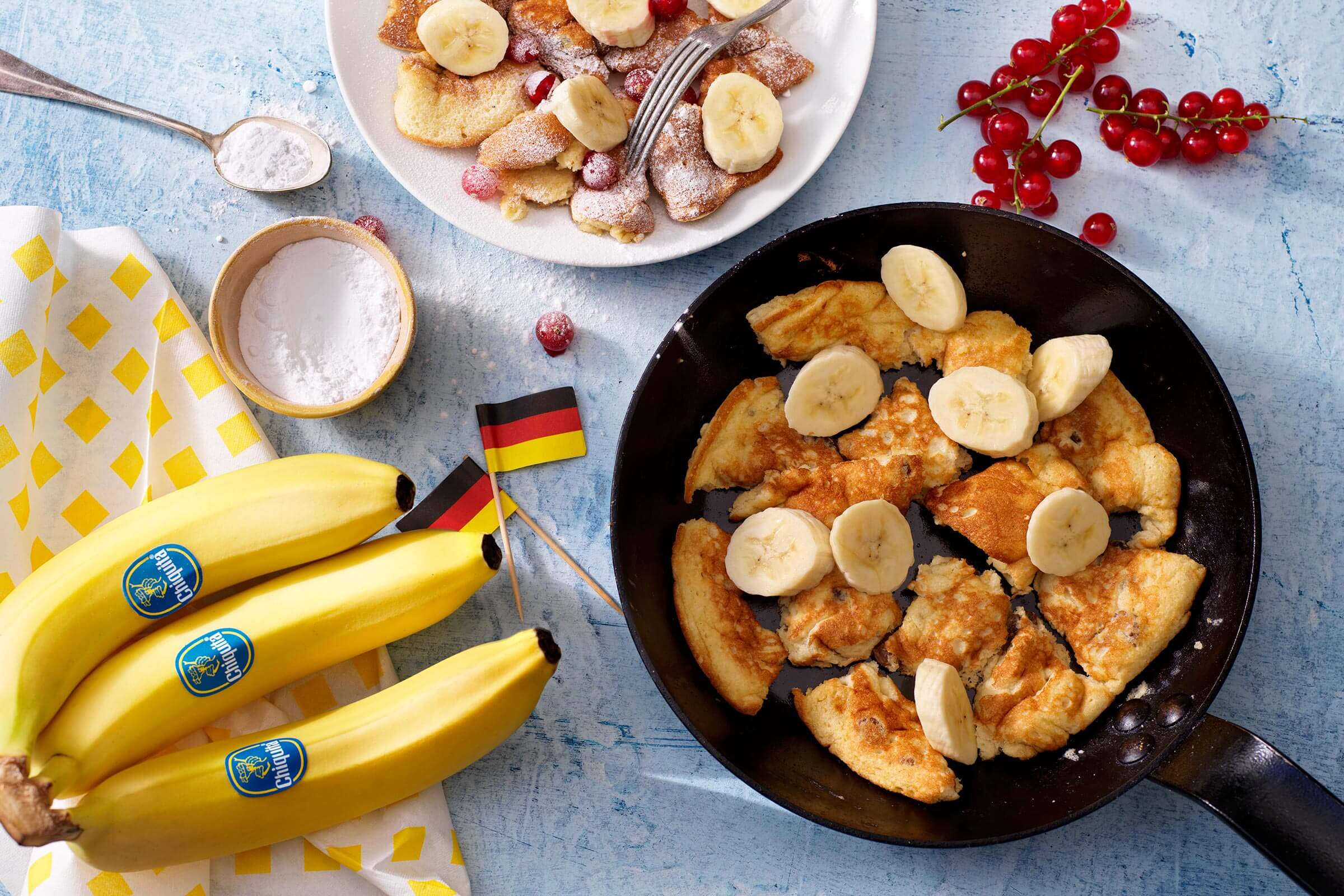 Kaiserschmarrn with Chiquita banana and red berries
This Austrian scrambled pancake is sure to become a firm favorite with your family! Mash Chiquita banana, egg yolk and whisked egg white, raisins and vanilla sugar, then cook the batter till brown. Tear the fluffy pancakes into quarters, then bake for a couple more minutes. Garnish with more banana, powdered sugar and red berries for a special breakfast or dessert.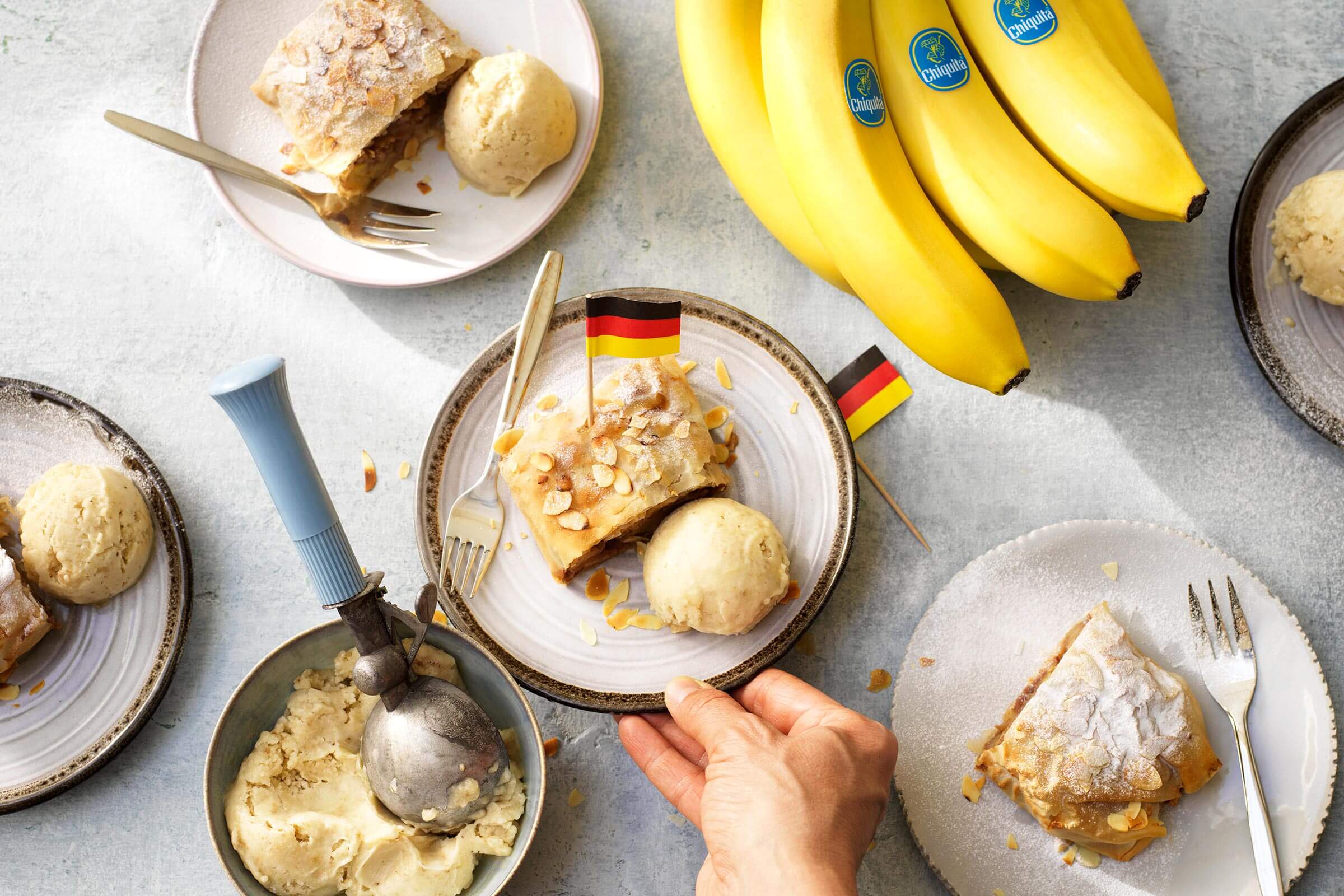 Chiquita banana German strudel with almonds
This yummy banana dessert is the perfect solution for overripe bananas. Use filo pastry as a base, add chocolate nibs, chopped walnuts and chopped Chiquita bananas with lemon juice squeezed onto them, then roll carefully, glaze with egg, sprinkle with almonds and bake for a special treat.
The Netherlands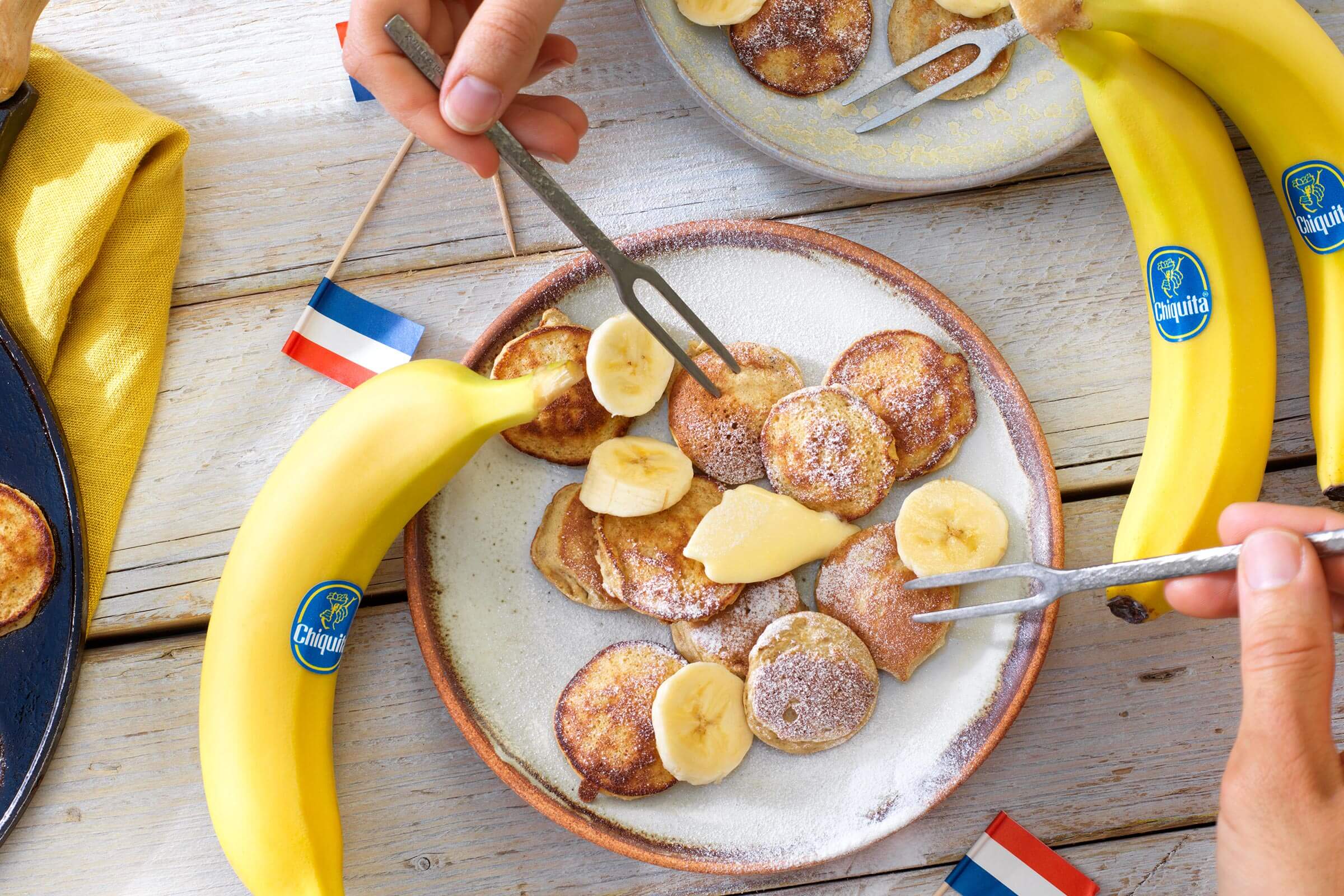 Chiquita banana Dutch egg poffertjes
Mini pancakes with buckwheat flour, these mouthwatering little morsels can be made in minutes – just puree two Chiquita bananas with the eggs, add the flour, baking powder and salt, and the mix is ready to be cooked like a mini pancake. Serve with powdered sugar and butter on top.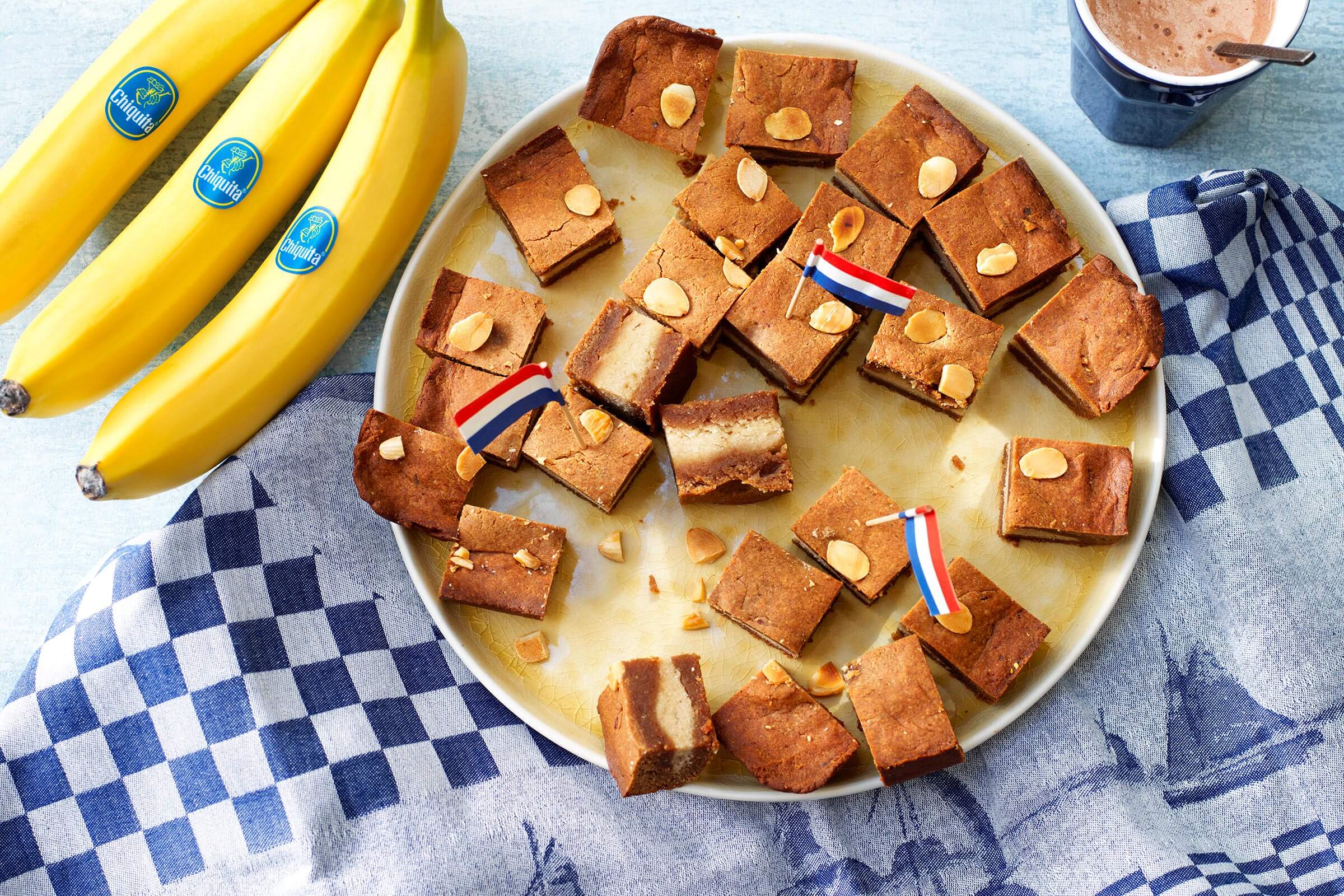 Filled Dutch speculaas with Chiquita banana, almond paste and almonds on top
These traditional thin, crisp, windmill-shaped cookies get a dash of delicious flavour with Chiquita banana. The cookies are a scrumptious mix of dates, almond flour, maple syrup and warm spices, with a filling of Chiquita banana, beaten egg and almond paste. Yum!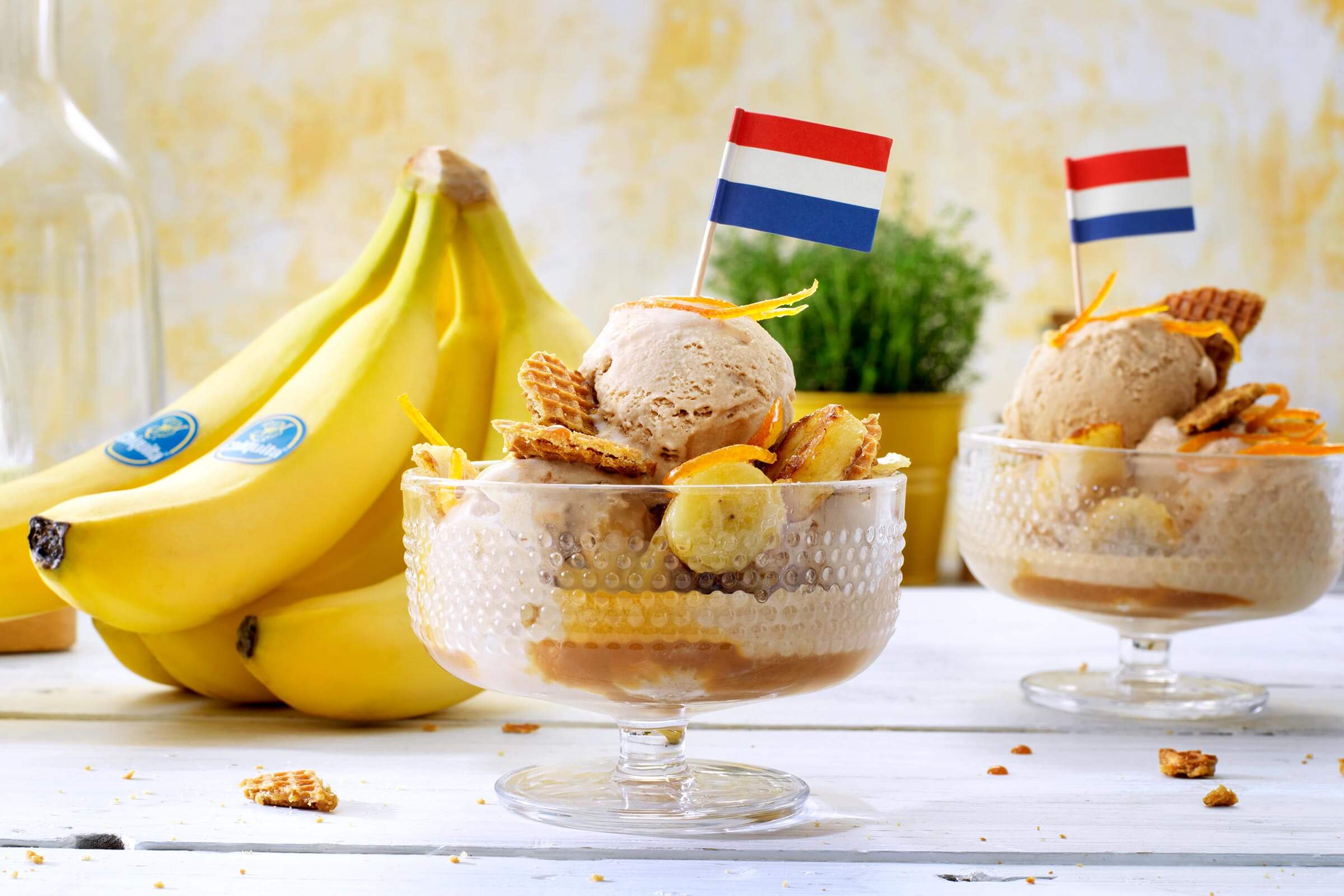 Cinnamon icecream with Chiquita banana and crunchy Dutch stroopwafel
If you've never had a syrupy, buttery, crunchy stroopwafel, there's no better way to start than by teaming them with a delicious ice cream made from Chiquita bananas, maple syrup and cinnamon. Garnish with caramel sauce, mint and orange zest for a happy taste explosion.
Greece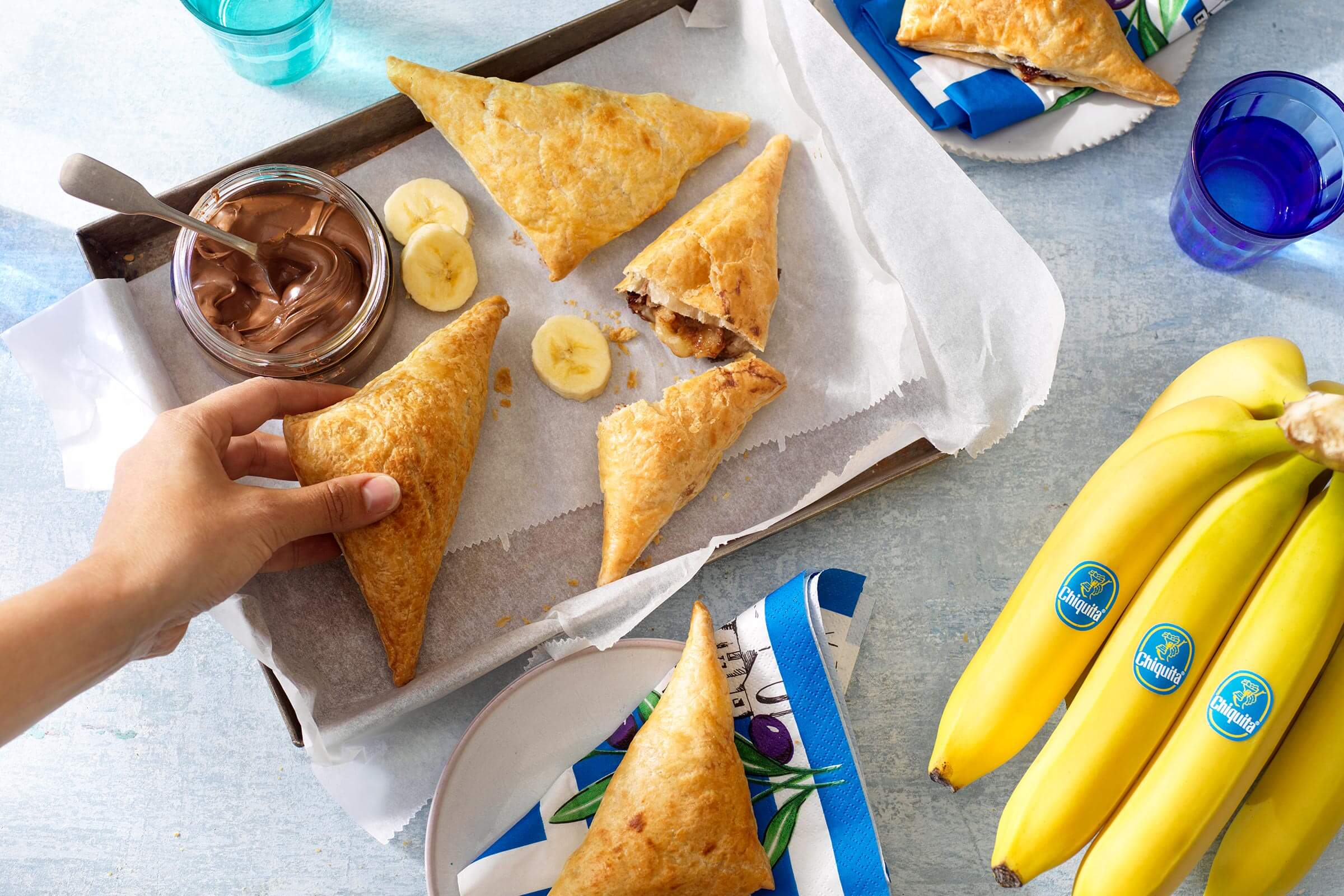 Quick chocolate Chiquita banana Greek calzone with nuts
What could be better than pizza with bananas and chocolate? A chocolate banana calzone, that's what! Take puff pastry, smooth on chocolate spread, then fill with Chiquita banana pieces and chopped mixed nuts for a baked dessert that is a very special treat.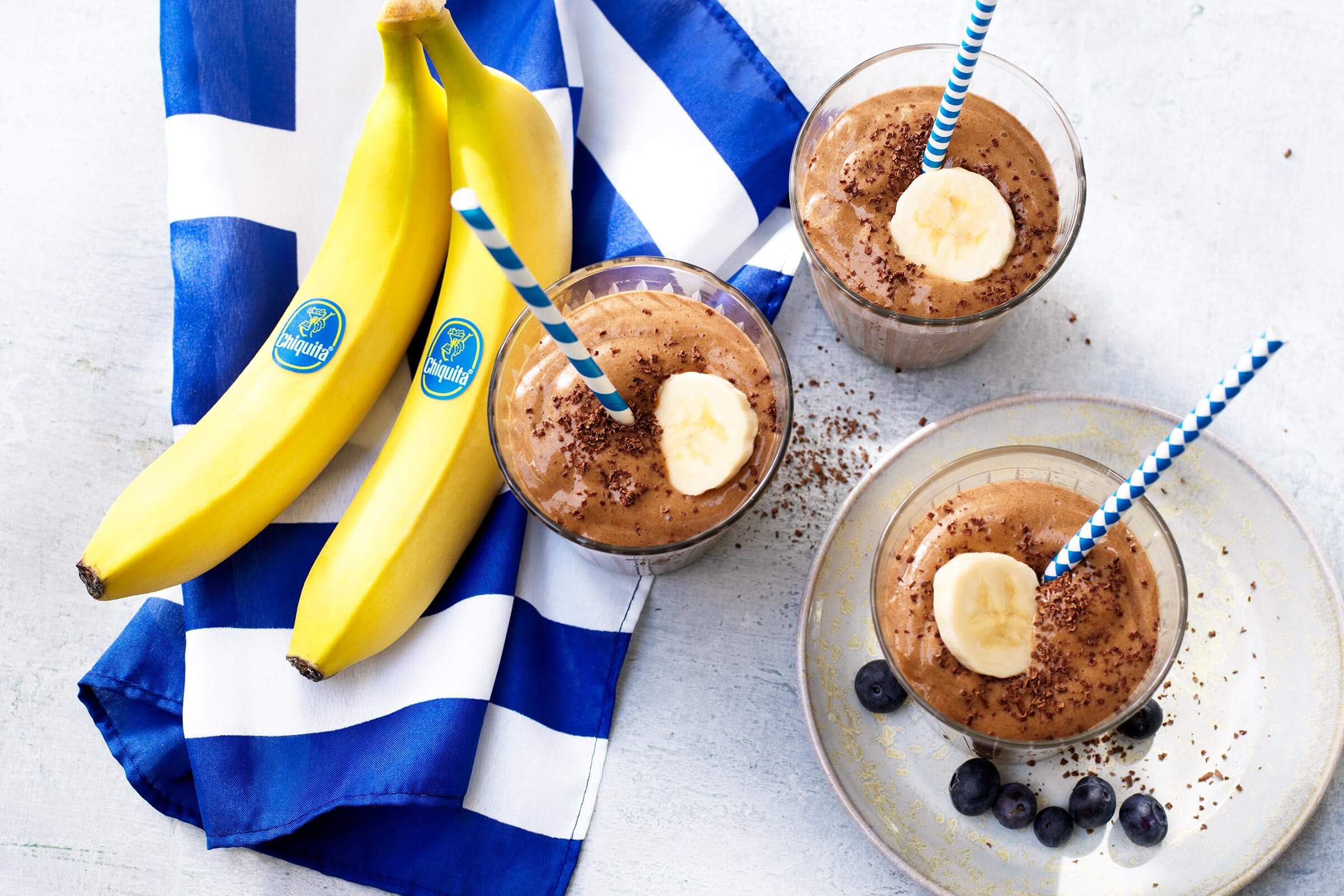 Greek cocoa Chiquita banana espresso smoothie
This cocoa-rich smoothie is perfect for a hot summer's day – chop Chiquita bananas, and blend with ice cubes, milk, espresso and honey for a sumptuous smoothie to enjoy in the shade.
Why not take a global taste trip using these great recipes from round the world today? Chiquita bananas add great taste to all these very different, wonderful treats. You'll be amazed!