With Autumn fast approaching, it's only right that we put together a seasonal menu to get people in the mood for Halloween and Bonfire night!
Thankfully, Primula Cheese now has a selection of Recipes for Early Autumn to get people in the mood for the change of season
Recipes for Early Autumn – Spooky Cobweb Pizza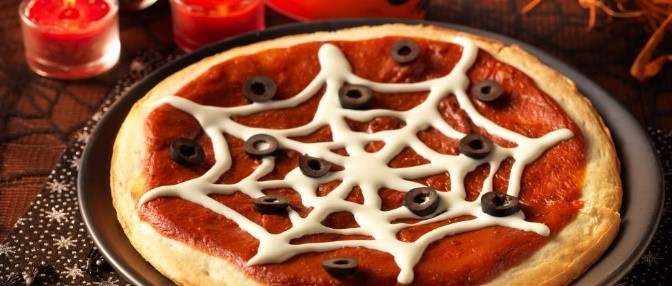 Ingredients
1 large ready-made pizza
1 tbsp tomato pizza sauce
150g tube of Primula Cheese
5 black olives
Method
Pre-heat your oven to 180°
Spread the pizza sauce over the base and bake for 10 minutes.
Remove from the oven and use the Primula tube to pipe a cobweb pattern on top.
Slice the olives in half and garnish the cobweb with the pieces – so it looks like spiders.
Slice and serve.
Recipes for Early Autumn – Roasted Pumpkin on Sourdough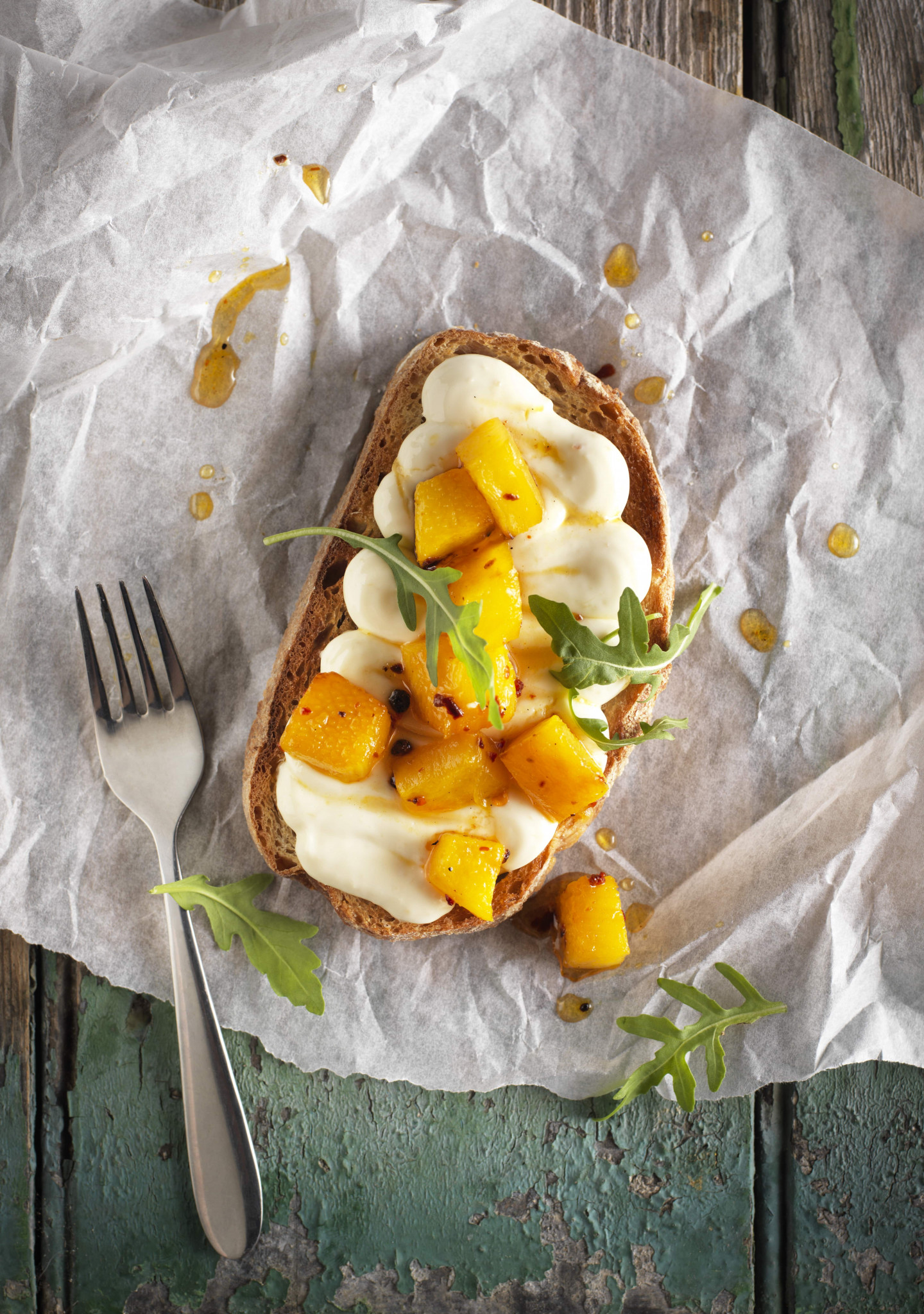 Ingredients
500g pumpkin, peeled and diced
2 tbsp olive oil
Pinch of chilli flakes
2 garlic cloves, finely chopped
1 tbsp honey
1 loaf of sourdough bread, sliced
1 garlic clove, peeled
100g Primula Cheese 'n' Ham
Method
Pre-heat the oven to 180°
Arrange the pumpkin in a large, shallow baking dish. Drizzle with olive oil and scatter over chilli flakes. Add the chopped garlic cloves.
Roast for 25 – 30 minutes, or until tender and lightly charred. Remove from the oven, add a tablespoon of honey and mix well to coat the pumpkin. Set aside.
Toast the sourdough until golden. Remove from the toaster and gently rub with the remaining garlic clove. Top with Primula Cheese 'n' Ham.
Serve immediately.
Recipes for Early Autumn – Loaded Pumpkin Fries
Ingredients
1 medium-sized pumpkin
2 tsp cornflour
2 tsp olive oil
1 tbsp fajita seasoning
150g Primula Cheese 'n' Jalapenos
Handful of fresh coriander, to garnish
Method
Using a sharp knife, slice the pumpkin in half. Scoop out the seeds and pulp.
Remove the ends from the pumpkin, peel and slice into fries.
Place the pumpkin fries in a large bowl and cover with cold water. Let the fries soak for at least 30 minutes, but preferably overnight.
When the fries have finished soaking, pre-heat your oven to 220°
Drain the fries and pat dry with paper towels.
Fill a large zip-lock bag with the fries. Add the cornflour, seal the bag and shake to cover the fries. Add the oil and fajita seasoning to the fries and shake well, covering them evenly.
Spread the fries in a single layer on a lined baking tray. Allow the fries plenty of space to ensure they're perfectly crisp. You may need a couple of trays.
Place in the oven for 10 – 15 minutes, flipping once halfway through, until the fries are crisp and golden.
Remove from the oven. Squeeze over the Primula Cheese and scatter the coriander.
Serve immediately.
Recipes for Early Autumn – Bonfire Night Catherine Wheels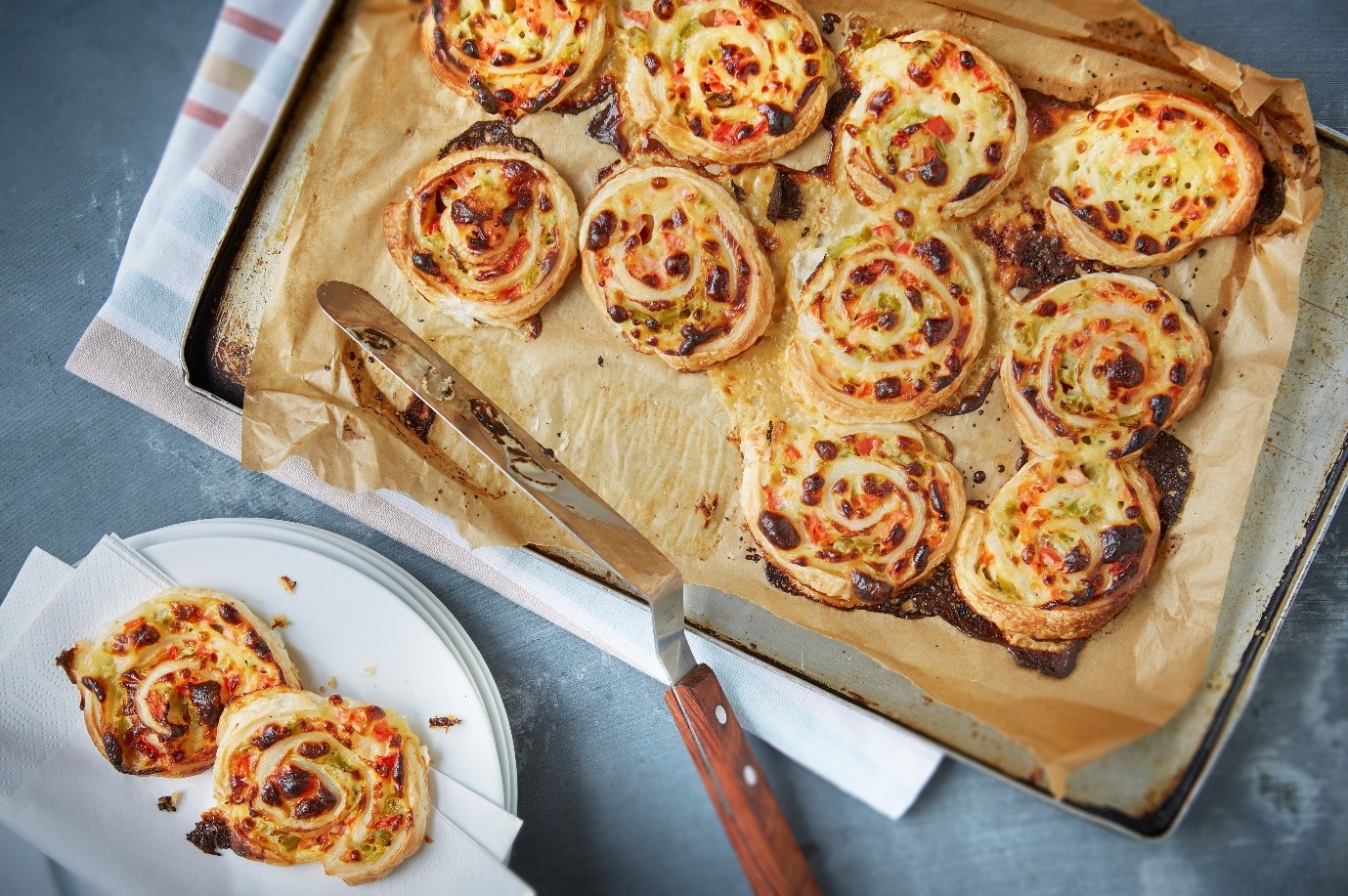 Ingredients
Primula Cheese 'n' Ham
1 sheet of ready-rolled puff pastry
Flour for dusting
1 small red pepper, diced
1 small green pepper, diced
1 small yellow pepper, diced
Method
Unroll the pastry sheet, keeping the paper. Dust each side lightly with flour and place back on its paper. Roll out lengthways until the pastry is the same length as the paper.
Spread the cheese over the pastry sheet then sprinkle with diced peppers, making sure to cover the pastry all the way up to the edges.
Place the pastry with the short end facing you and roll up carefully – as you would a Swiss roll.
Transfer the pastry roll to a baking tray lined with parchment paper and place in the freezer for 20 minutes to firm up.
Pre-heat the oven to 200°C.
Carefully slice the pastry roll into 1cm rounds. Do not cut the rounds too thick or they won't bake evenly.
Place the rounds back on the lined baking tray and put in the oven for around 15-20 minutes
Serve