With the Queen's Platinum Jubilee around the corner, we have put together some of the best 'garden party' recipes – perfect for celebrating the day with friends and family in the garden.
Swish Crackers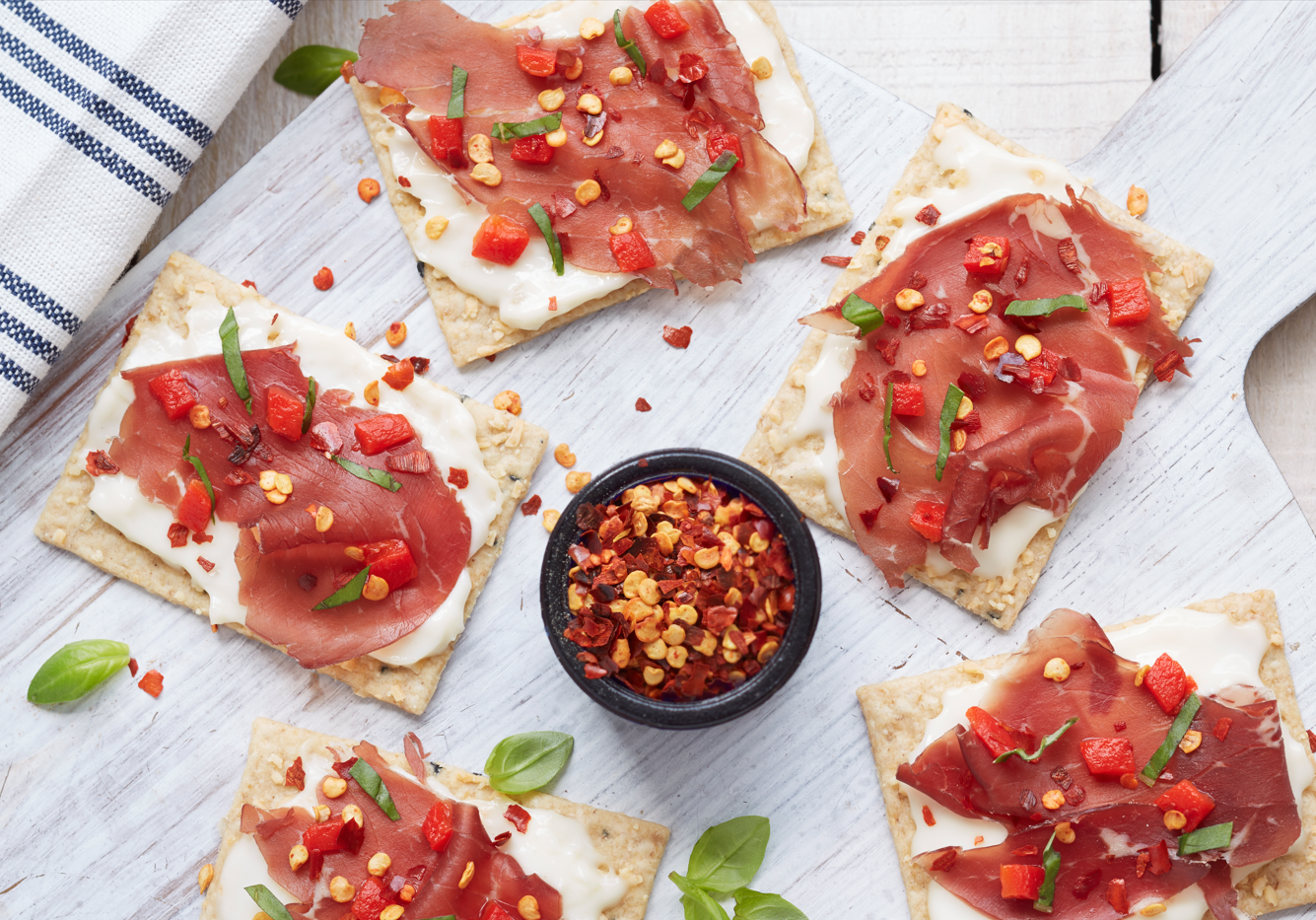 WHAT YOU NEED
150g tube of Primula Cheese – any flavour
20g bresaola (This also works well with parma or salted ham)
8g sea salt flatbread or any other fancy cracker
Basil, finely chopped
Chilli flakes
HOW YOU DO IT
Spread a generous squeeze of Primula cheese onto each cracker.
Top with bresaola, a sprinkle of chilli flakes and finely chopped basil.
Kick back, relax, and enjoy!
Share a flatbread
Crunchy Salad Sharing Platter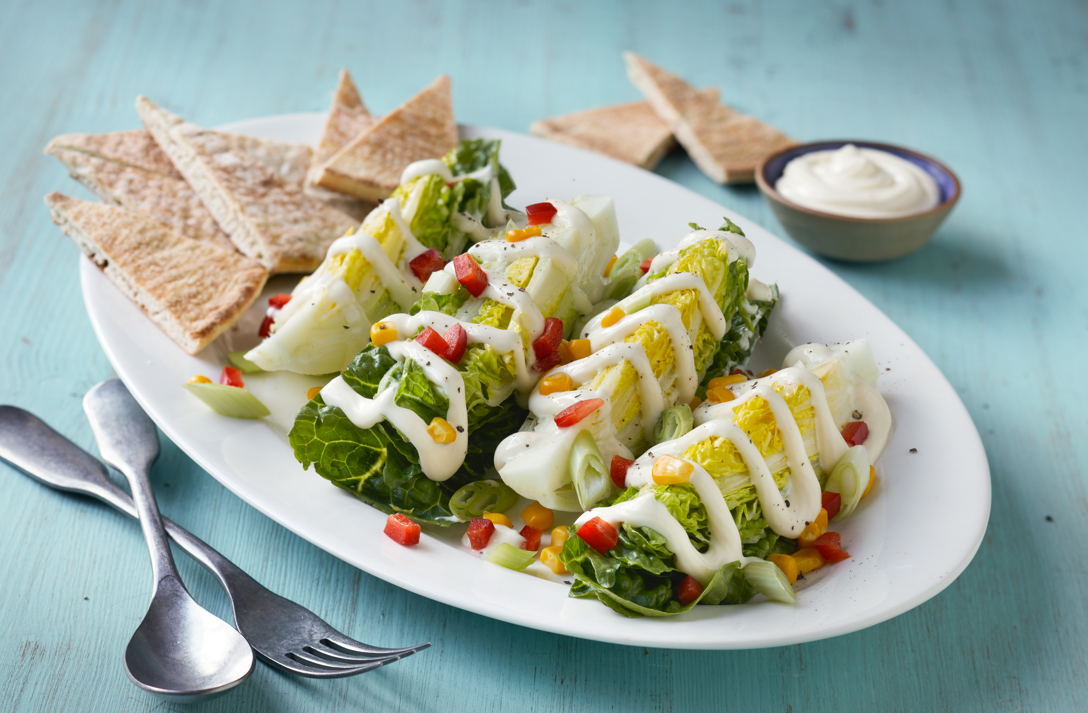 Description:
Our Crunchy Salad Sharing Platter is super simple to make and brings together a healthy mix of textures and flavours. A generous squeeze of Primula Original adds a creamy twist for a speedy lunch or a vibrant BBQ side.
Ingredients:
1 Romaine lettuce, quartered
1 x 198g can sweetcorn, drained
1 red pepper, deseeded and cut into small squares
140g Primula Original Cheese
Freshly ground black pepper, if liked
Pitta bread, toasted until crisp and cut into triangles, to serve
Method:
Arrange the quartered Romaine lettuce on a platter and sprinkle over the sweetcorn and chopped pepper.
Generously squeeze over Primula Original Cheese and a sprinkle of black pepper if liked.
Serve with crispy pitta triangles.
Serves: 4
Dirty Fries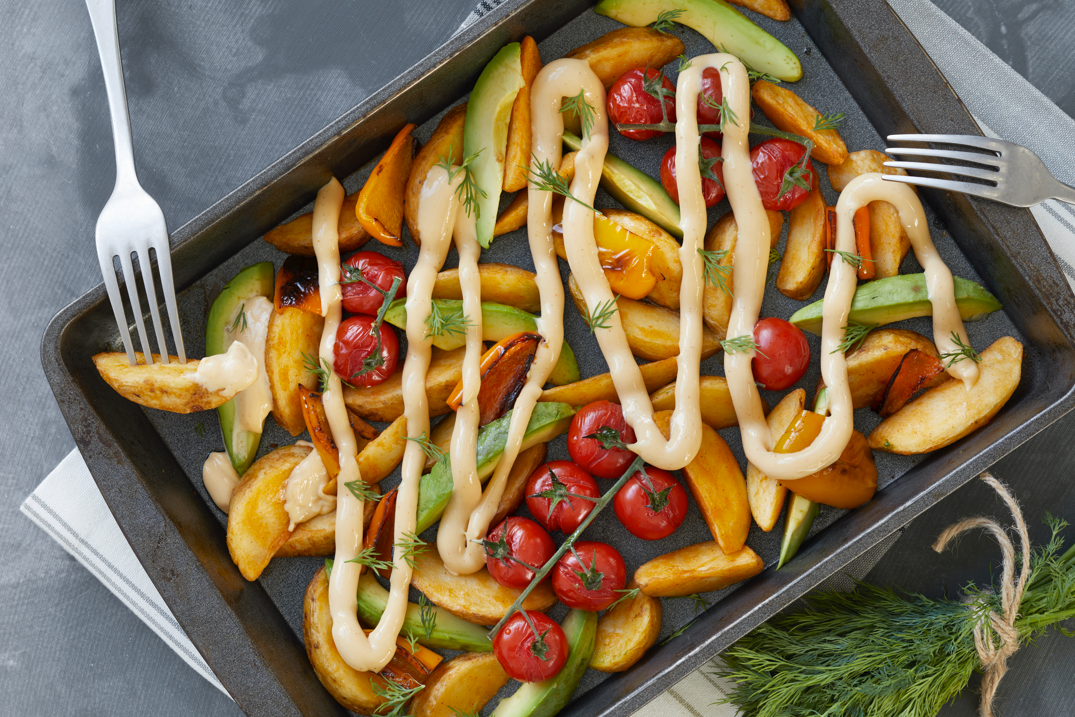 Description:
We've given our Dirty Fries recipe a healthy twist with yummy peppers, cherry tomatoes and avocado for a colourful and flavoursome feast! Add to that a sizeable squeeze of Primula Burger Cheese and you're onto a winner!
Ingredients:
500g frozen Spicy Potato Wedges
2 peppers, deseeded and each cut into 8 pieces
400g cherry tomatoes on the vine
1 avocado, peeled and cut into wedges
140g Primula Burger Cheese
Sprigs of dill to serve, if liked
Method:
Preheat oven to 220C, 200C fan, Gas 7.
Arrange the potato wedges on a large baking tray with the peppers and cherry tomatoes and cook in a preheated oven for about 20 minutes until the potato wedges are golden and crispy.
Add the avocado to the vegetables on the tray. Squeeze over a generous amount of Primula Burger Cheese and serve straight away, sprinkled with a few sprigs of dill if liked.
Serves: 4
Hot & Spicy Chicken Bites with Sriracha and Pickled Vegetables
Description:
Feeling peckish? Our Hot and Spicy Chicken Bites are sure to be a crowd-pleaser. Enjoy them as a tasty snack or serve with rice for a flavoursome dinner.
Ingredients:
For the pickled vegetables:
1 carrot, peeled and cut into fine matchsticks
½ cucumber, cut into fine matchsticks
4 radishes, cut into fine matchsticks
2 teaspoons salt
1 teaspoon sugar
125ml white wine vinegar
350g hot & spicy breaded chicken breast pieces
140g Primula Hot Cheese 'n' Sriracha
Method:
Put the carrot, cucumber and radish matchsticks into a bowl and sprinkle over the sugar and salt. Massage the vegetables gently for a few minutes then squeeze out the excess moisture.
Pack into a clean jam jar and pour in sufficient vinegar to half fill the jar. Top up with water so that the vegetables are covered, seal with the lid and shake to mix together. Leave to stand for at least 20 minutes.
Empty the hot and spicy chicken pieces onto a baking tray and cook according to pack instructions.
Divide the chicken pieces between 4 bowls. Top each with a generous squeeze of Primula Hot Cheese 'n' Sriracha and pickled vegetables and enjoy!
Serves: 4