With travel beginning to rise again, there's never been a better time to explore some of the world's most beautiful national parks. Whether you're in search of breathtaking mountains, deserts, deep blue lochs or turquoise gulfs, there's an Airbnb in every corner of these incredible locations. 
Brean Horne, personal finance expert at comparison site, NerdWallet, has compiled a list of the top 10 luxurious and scenic Airbnb stays situated in national parks around the world, for you to stay as a group and split the cost.
ChillChata, Beskid Mountains, Poland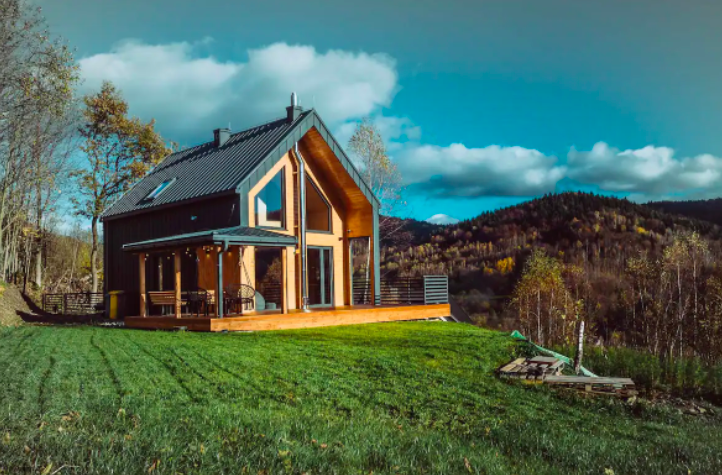 Price per night: £97.00
Number of guests: 6
Pets: No 
WIFI: Yes
Review rating: N/A
The modern barn in the Beskid Mountains boasts breathtaking views across the national park and has great access for a number of hikes and walks, including the Beskid Trail that's almost 310 miles along the southern Polish borders.
The home can accommodate up to six guests and is equipped with Wifi, a TV and a dedicated workspace for those digital nomads. In the winter months, you can cosy up in the living room by the fireplace, or in the warmer months, take advantage of the terrace sunbeds or swing and look out over the flower meadow and the scenic mountains.
The Old School House Port Campbell, Port Campbell National Park, Victoria, Australia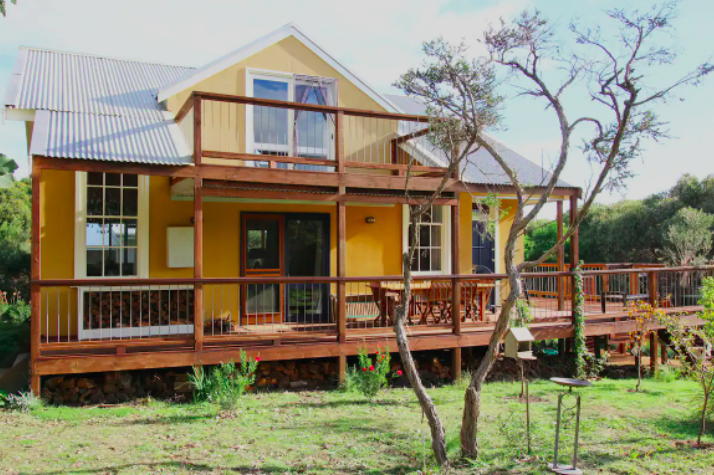 Price per night: £146.00
Number of guests: 6
Pets: No
WIFI: Yes
Review rating: 4.97
The traditional character property built in 1915 sits in the Port Campbell National Park, and has excellent access links to the town centre and the beach. The property has two bedrooms and a sofa bed in the living room, two balconies, and a large wrap around deck for sitting out and enjoying the views on an evening.
Gibson Steps, the 12 Apostles (a collection of limestone stacks off the shore), and Loch Ard Gorge are just a 10-minute drive away from the home, just off the iconic Great Ocean Road (one of Australia's most scenic coastal drives).
Ginger & Cacao,Punta Uva Beach, Cahuita National Park, Costa Rica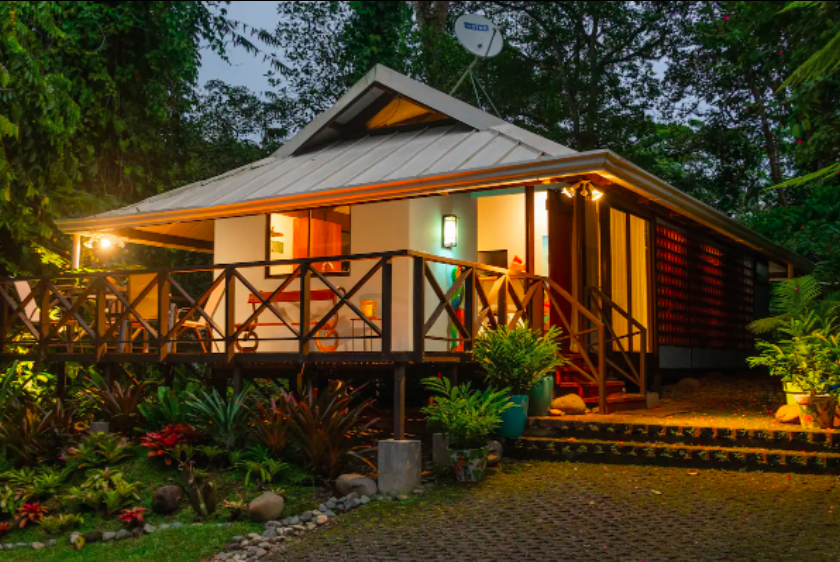 Price per night: £169.00 
Number of guests: 8
Pets: No
WIFI: Yes
Review rating: 4.87
The landscaped gardens are home to the two elegant villas, Ginger and Cacao, that have stunning ocean views and can host up to eight guests. The outdoor areas have impressive jungle views that can be seen from the large decks that wrap around the villas, a pool to cool off in, and a leisure area to relax and socialise as a group.
The benefit of this property sitting in the Cahuita National Park, means that the peaceful Punta Uva Beach is just a 10-minute walk away, where you can find white sandy beaches, turquoise waters and coral reefs.
Charlie's Cozy Cabin, Olympic National Park, Sooke, British Colombia, Canada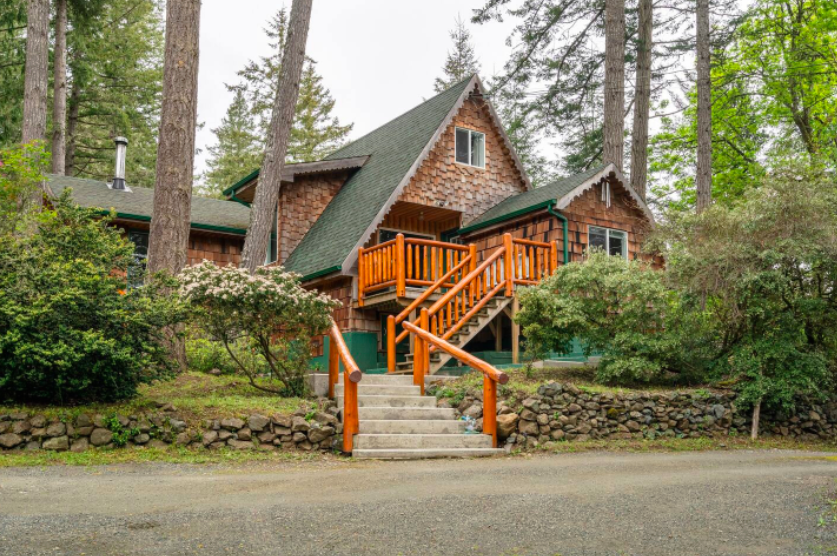 Price per night: £196.00
Number of guests: 6 
Pets: No
WIFI: Yes
Review rating: 4.97
Charlie's Cabin is built on a 20-acre plot of land and boasts striking views of the surrounding mountains and ocean. The property can accommodate six guests and has lots in the way of entertainment, including a TV equipped with Netflix, Prime Video and Disney+, a range of board games and a play area for kids.
The outside area has a fire pit for toasting S'mores, a field for picnics, and is located just off Sooke road with easy access to the walking trails of the Olympic National Park.
Cubo's Villa La Cuesta, Parque Nacional Sierra de las Nieves, Malaga, Spain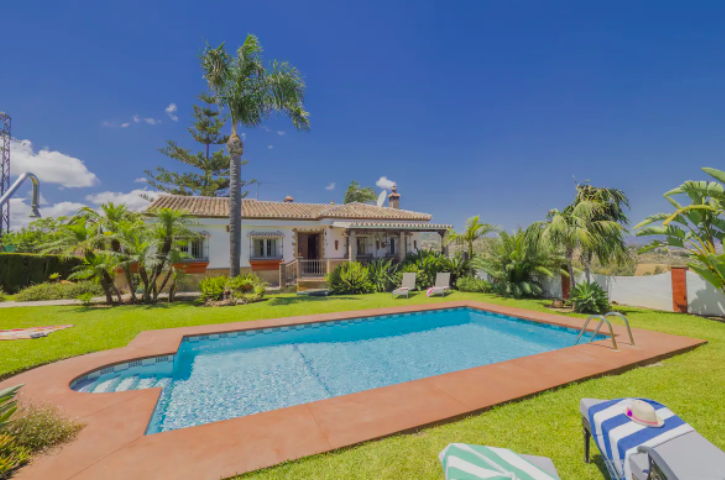 Price per night: £211.00 
Number of guests: 6
Pets: No
WIFI: Yes
Review rating: N/A
The luxury Cubo's Villa La Cuesta comes equipped with three bedrooms, two bathrooms, a hydromassage bathtub, air conditioning for hot days, a fireplace for cooler evenings, and a beautiful private garden with large pool.
Situated in a scenic spot, the garden has views of the Nacional Sierra de las Nieves stunning mountain range and has easy access to some of the best walking routes, including Benahavís to Acequia de Las Angosturas, Puerto Saucillo to Puerto Bellina and Sendero PN El Burgo to La Fuensanta.
Villa Amneris, Ainos National Park, Fiskardo, Greece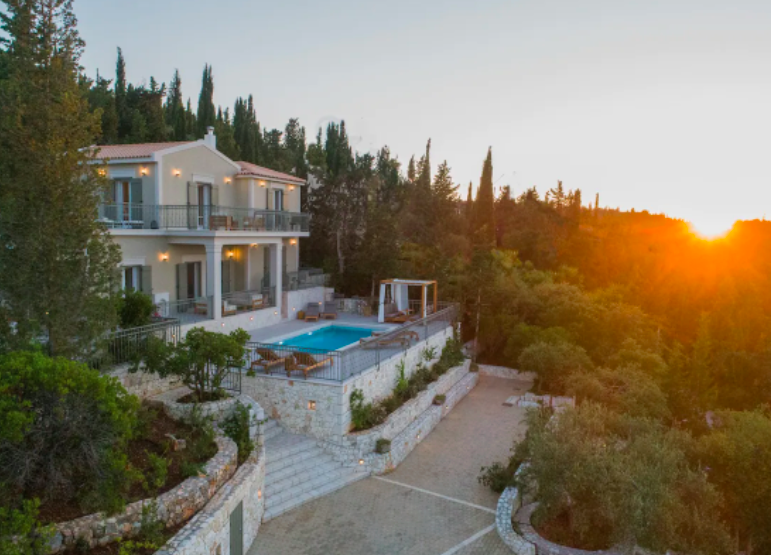 Price per night: £296.00
Number of guests: 7 
Pets: N/A
WIFI: Yes
Review rating: 5.0
Villa Amneris is a luxury villa set in a serene location that overlooks both the mountainous view of the Ainos National Park and stunning shoreline of Emblisi beach and is still walking distance to the village of Fiskardo.
The three bedroom and three and a half bathroom villa has plenty of space to accomodate a large group, and has a great outside area for entertaining. The villa has a hot tub, pool, outdoor dining area with pergola, a stone-built BBQ, various sunbeds for sunbathing, and a stone staircase that leads straight to the forest for easy access to walking routes.
Lochside Cottage, Loch Lomond and The Trossachs National Park, Scotland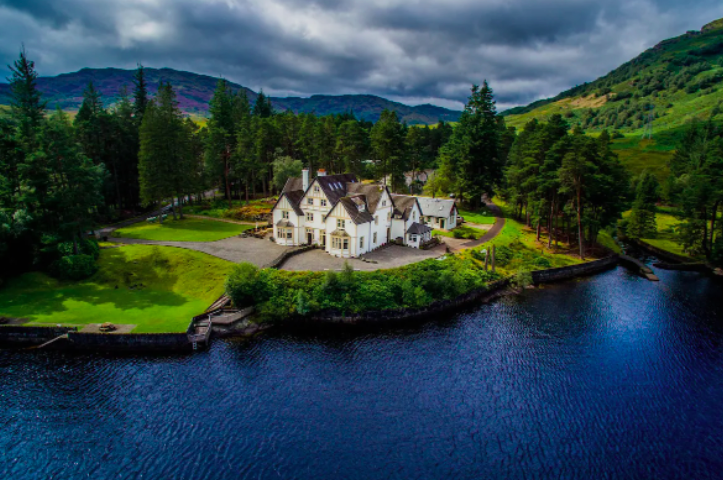 Price per night: £300.00
Number of guests: 8 
Pets: Yes
WIFI: Yes
Review rating: 4.89
The stunning four bedroom Lochside Cottage is the perfect place to cosy up by the wood-burning stove and enjoy panoramic views of Loch Katrine, as well as the surrounding forest and countryside. The property is also pet-friendly, your favourite four-legged friends can also join you on your travels exploring everything Scotland has to offer.
The waterside retreat sits in the heart of Loch Lomond and Trossachs National Park and offers easy access to its woodland walks and a variety of different lochs. The cottage is the  ultimate tranquil escape, but if you're looking to venture out for some lunch after you've built up an appetite, there's a lovely waterfront café, Pier Café, just a short walk away.
8. Rock Reach House, Yucca Valley, Mojave Desert, California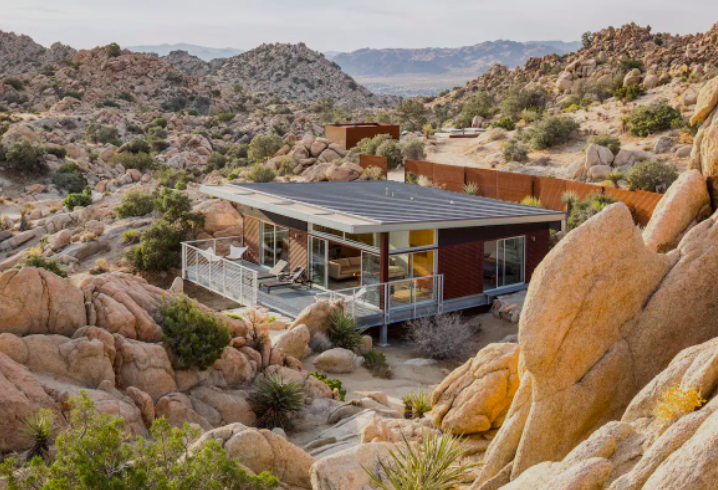 Price per night: £492.00
Number of guests: 4 
Pets: Yes
WIFI: Yes
Review rating: 4.93
Rock Reach House is a modern steel house that is nestled in a striking setting amongst the boulders of the Mojave Desert. Inside the unique home there are two bedrooms to accommodate four guests, living room with Apple TV, and a bathroom with a shower that has a door opening out into a private outdoor shower (a must-try). Outside of the house sits a patio, Jacuzzi, a cowboy tub and outdoor fireplace.
The property is just a 10-minute drive to the town of Yucca Valley or you can explore the impressive Mojave Desert that sits in the rain shadow of the Sierra Nevada mountains.
9. Gulf-Front Retreat, Everglades National Park, Florida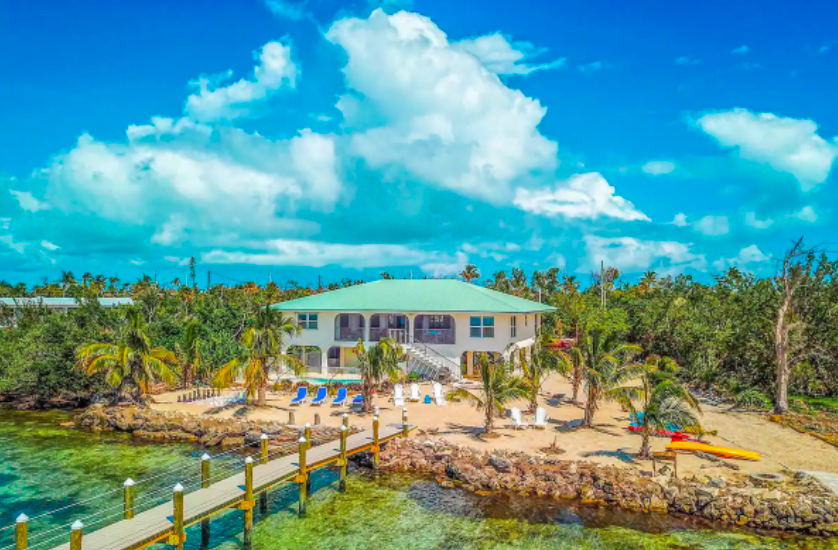 Price per night: £820.00
Number of guests: 8 guests
Pets: No
WIFI: Yes
Review rating: 4.81
The Gulf-Front Retreat is the ultimate oasis boasting a private heated pool, hot tub, balconies, sunloungers, outdoor beach games, and a dock with a boat ramp outside for using kayaks and paddleboards. Inside the house, there are four bedrooms with queen-sized beds, 32-inch Roku TVs with Netflix and a portable bluetooth soundbox to bring you music anywhere.
The home has stunning views of the crystal blue gulf waters and the 140 foot wide private sandy beach. Sitting in the Everglades National Park, there is an abundance of native wildlife to see, such as pelicans, dolphins and manatees. There are also a variety of Keys-style restaurants close by, if you fancy enjoying some of the local cuisine after a day of snorkelling and exploring.
10. Torre Trasita, Amalfi Coast, Positano, Campania, Italy
Price per night: £2,070
Number of guests: 6
Pets: No
WIFI: Yes
Review rating: 5.0
This historic 16th-century tower on the beach in Positano is truly unique, and can accommodate up to six guests for an unforgettable stay. The home has three bedrooms, three bathrooms with chromatic wellness showers, and a large circular living room with piano for entertaining. A wrought-iron staircase leads up to a large blue-paved terrace that offers extensive views of the scenic sea of Positano.
The tower sits on a romantic street between the two beaches, ​​the Grande beach and the Fornillo beach, and has access to a range of incredible restaurants serving up local cuisine. Those wanting to visit the world-renowned Mount Vesuvius also have easy transport links available that take you straight to the Vesuvius National Park.
Brean, added, "Group stays are a great way to keep costs down when away, all while ensuring you can stay in some of the most exciting and beautiful places in the world with some of your closest friends and family.
"However, it can be all too easy to forget travel insurance or think you don't need it if you're in a group or the provider offers secure booking and peace of mind. But travel insurance covers everything from flight cancellations and accommodation issues, to medical emergencies and lost or stolen luggage and valuables, so it really is worth investing in – even if you're only going for a long weekend."