Renowned chefs share their must-have BBQ recipes to help Brits thrill on the grill this summer
Tongs at the ready; aspiring kings of coal and head chefs of the family grill are gearing up for a summer of awesome al fresco eats.
But with Australia, the US and the UK famed for their barbecue game, which nation gets Brits' tastebuds tingling? Fourth-generation wine maker – Andrew Peace – has united chefs from around the globe to throw their hottest BBQ recipes into the (fire) pit, so you can cook up the best outdoor eats from these famed foodie nations.
Representing Britain, live fire and BBQ expert – Genevieve Taylor – dishes out her Lemony Pork Kebabs and Feta and Red Pepper Sauce, King of the Grill in the USA – DJ BBQ – serves up San Diego Style Surf & Turf Tacos and Executive Chef from Down Under – Shaun Presland – shares his recipe for Salmon Teriyaki Skewers.
No stranger to the coals himself, and a master winemaker to boot, Andrew Peace shares his must-have wine pairings to have with each dish.
Britain: Lemony Pork Kebabs with a Feta and Red Pepper Sauce*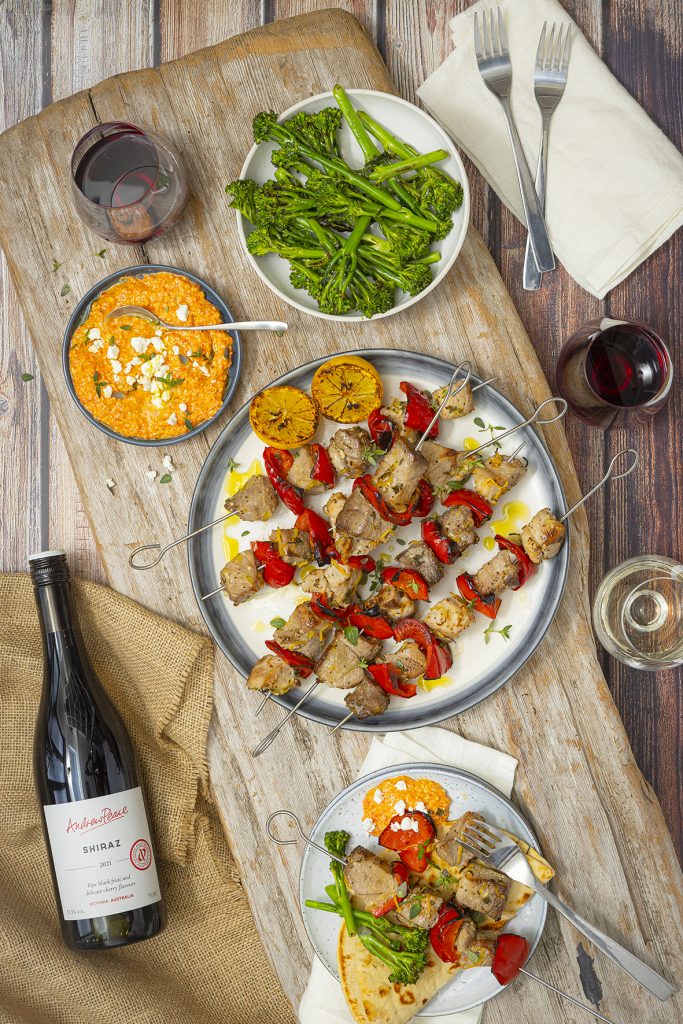 Chef: Genevieve Taylor
Prep/cooking time: Prep: 30 mins, Marinate: 12-24 hours, Cook: 35-40 mins
Serves: 4 people
Ingredients:
For the lemony pork kebabs:
4 tbsp olive oil
2 garlic cloves, crushed
Sprigs of thyme, chopped
1.2kg pork leg, diced into 3–4cm cubes
2 red peppers, diced into 4cm pieces
Flaked sea salt and freshly ground black pepper
For the feta and red pepper sauce:
2 red peppers
200g feta
½–1 tsp chilli flakes
Methodology
For the lemony pork kebabs:
Mix the lemon zest and juice together with the olive oil, garlic and thyme and season with salt and pepper.
Add the diced pork, stir and coat well before covering and refrigerating for 12-24 hours.
Fire up the barbecue for indirect grilling – charcoal on one side and no charcoal on the other.
Thread the pork onto metal skewers, alternating it with pieces of pepper.
Rest on the grill bars, slightly away from the fire so they cook over a medium heat.
After grilling on all sides for 15-20 minutes, use a meat probe to check the temperature. For medium, opt for over 63 degrees or for well done over 71 degrees.
Serve with the feta and red pepper sauce alongside (see recipe below), delicious greens and flatbreads and enjoy with a glass of full-bodied Andrew Peace Shiraz.
For the feta and red pepper sauce:
Rest the whole peppers for the sauce directly over the fire and char the skins all over until blackened, turning regularly.
Transfer to a bowl and cover with a place, then leave for a few minutes to help the steam loosen the skins.
Peel the skin and discard it, along with the seeds and stem.
Drop into a food processor with the feta, chilli flakes, olive oil, salt and pepper and whizz until a purée consistency.
Wine pairing:
Andrew Peace Signature Shiraz 2021 (13.5% ABV) – £5.75, Co-op
A smooth, full-bodied red wine blended from Shiraz with a touch of Tempranillo, bringing you typical ripe black fruit flavours with a hint of cherry. Vegan friendly.
USA: San Diego Surf & Turf Tacos with a Corn & Mango Salsa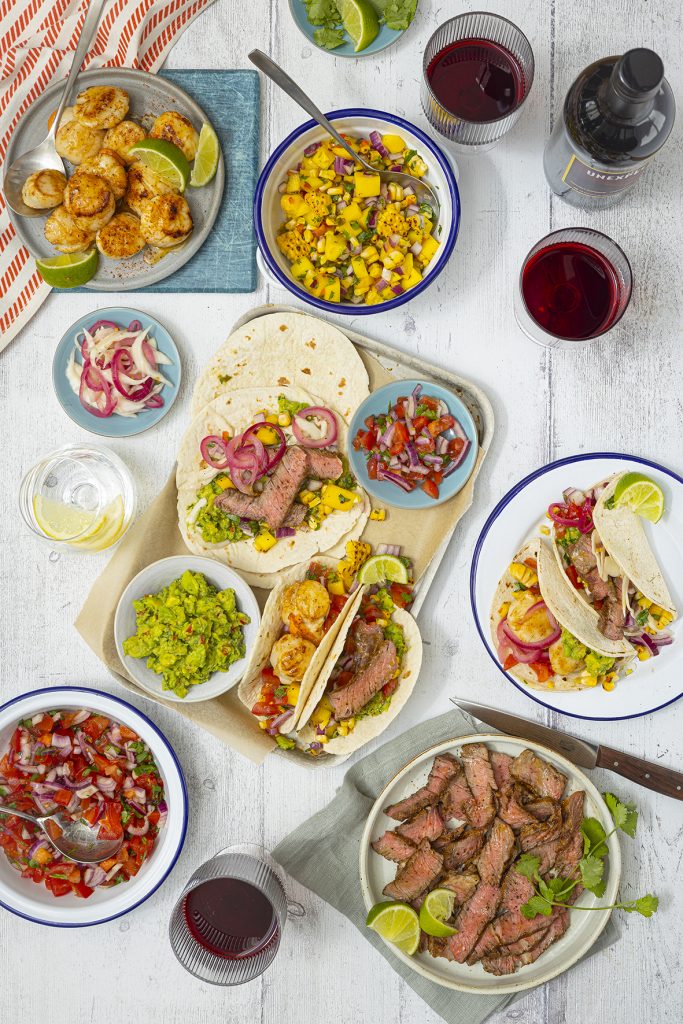 Chef: DJ BBQ
Prep/cooking time: Prep: 30 mins, Cook: 25 mins
Serves: 4
Ingredients:
For the Mango & Corn Salsa:
1 mango, peeled, sliced and diced
1 ear of corn on the cob
1 red onion, finely chopped
1 lime, juiced
Handful of coriander, chopped (Keep the stalks for the butter)
For the Mexican Spice Rub:
2 tsp salt
1 tsp of cracked pepper
Pinch of cayenne or chilli powder (1 tsp for maximum affect)
1 tsp garlic granules
1 tsp onion granules
Pinch of paprika
For the Surf & Turf Tacos:
350g Filet steak AND/OR 16 Scallops
Dozen corn or flour tortillas/tacos
125 grams of butter
3 garlic cloves, peeled and chopped
Tacos/tortillas/corn tortillas
Methodology:
– Recommended – For the Mango & Corn Salsa:
Start by peeling the corn husks back, but don't rip them off and soak for 30 minutes.
Place a small saucepan over a low to medium heat, add the butter with the garlic and coriander stalks and season while over a low heat.
Once your corn has had a good soak, shake the water off and place over a medium heat. Turn a couple of times for an even cook.
After 3-4 minutes, ensuring husks are pulled back, glaze with the butter. Turn, baste, then take off the heat.
Pull the husks all the way back, away from the kernels, and slather even more coriander garlic butter on before placing directly over a hot heat until you achieve a nice char on the kernels.
Take off to rest and once cooled, slice the kernels off with a knife and combine with the chopped mango, onions, coriander, and lime juice.
For the San Diego Surf & Turf Tacos:
Combine the spice rub ingredients into a bowl and mix well.
Fire up your grill using the indirect method – charcoal on one side and no charcoal on the other. This will give you different heat zones for cooking. You're looking for a hot heat for the steak and scallops.
Season the steak with the spice mix and place over the grill.
Flip the steak until it reaches 50 degrees and don't forget to grill the perimeters too.
Meanwhile, add a dollop of garlic butter to a pan and sear the scallops hot and fast, watching out not to overcook them.
Let the steak rest whilst you toast the tacos/tortillas over the grill or fry corn tortillas in the garlic butter to create a tostada.
Layer slices of steak AND/OR scallops on the tacos with dollops of Mango & Corn salsa. Top tip: a quick-fire Pico de Galla Salsa or Guacamole can take tacos to the next step.
Wine pairing: 
The Unexpected Red 2021 (14% ABV) – £6.75, Co-op
One for the adventurous, this off-beat blend of four classics; Cabernet Sauvignon, Merlot and Tempranillio with Sagrantino is smooth, full-bodied and rich, with a deep blood-red garnet colour and flavours of blackcurrant, bright cherry and hints of spice and violet.  Vegan friendly.
Australia: Salmon Teriyaki Skewers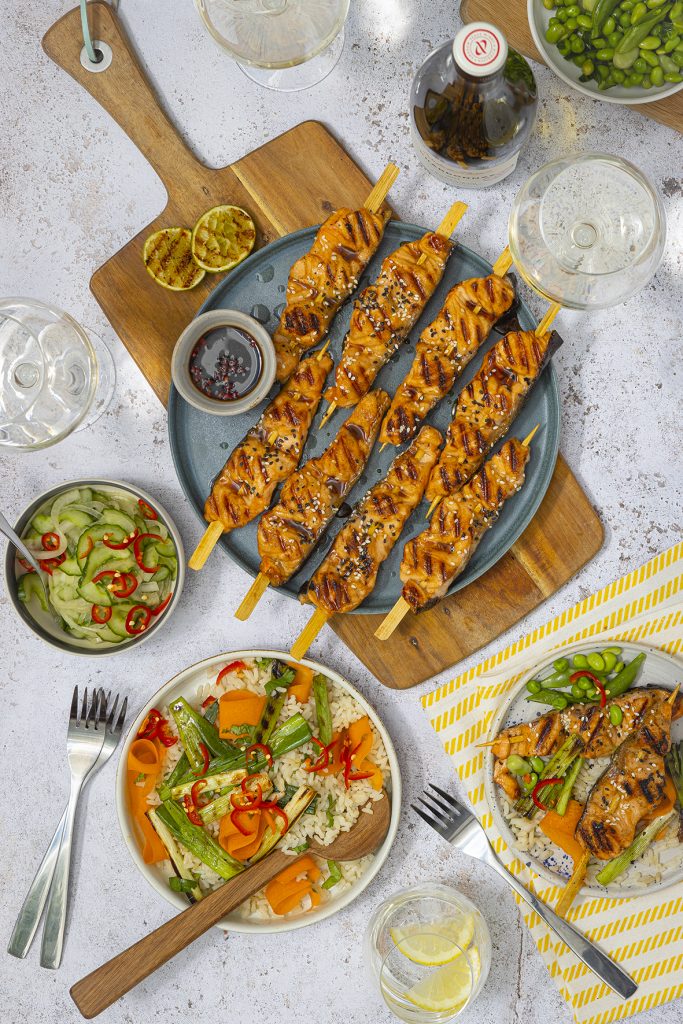 Chef: Shaun Presland
Prep/cooking time: Prep: 30 mins, Cook: 5 mins
Serves: 4 people
Ingredients:
1kg of salmon
30g table salt
1 lemon
150ml mirin
500ml white wine
550ml dark soy sauce
150g brown sugar
150g white sugar
Methodology:
Mix the mirin, white wine, dark soy sauce and both sugars in a saucepan and bring to the boil.
Reduce by a third on a low simmer.
Cut approximately 150g of salmon pieces against the grain 10cm long.
Skewer them to make a wave shape with the skin side up.
Rub half the salt into the skin and sprinkle the rest over both sides.
Let them rest at room temperature for 20 minutes before cooking the skin side over hot charcoal, basting twice with a brush.
Briefly slip the skewers over for 30 seconds and finish with a final baste.
Wine pairing:
Andrew Peace Signature Chardonnay 2021 (13% ABV) – £5.75, Co-op
Brilliantly refreshing and rich white wine blended from Chardonnay with a touch of Semillon to produce subtle flavours of tropical fruit and a splash of delicate citrus. Vegan friendly.
Summer is a good time to visit The Maldives